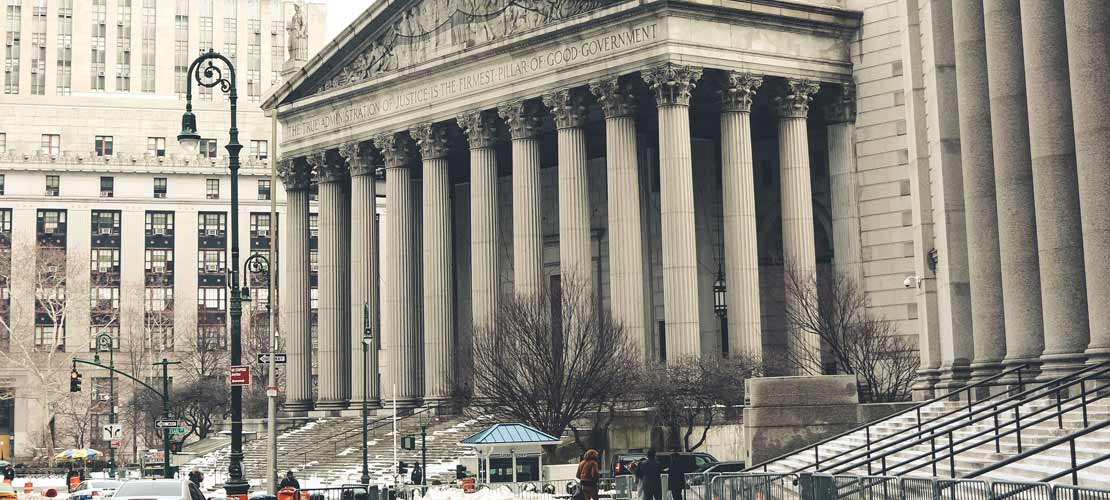 Federal Criminal Defense Attorneys
If you are currently under investigation for a federal crime, you may not be fully aware of the gravity of your situation. The federal criminal justice system takes alleged violations of the law extremely seriously with life-changing implications if you are found guilty or plead guilty. You need the help of seasoned federal criminal defense attorneys who have the experience of handling numerous cases to their conclusions. Our attorneys have successfully defended and fought for the rights of clients like you through every stage of the investigation before federal judges, ensuring that the government is held accountable to their absolute burden of proof above and beyond every and all reasonable doubt. Whether you've been arrested for a federal crime or you've just discovered that you're under investigation by federal law enforcement, Pope Law is here to be your advocate and help guide you through the difficult circumstances you find yourself in and provide the tenacious legal defense you need at this time. Contact us today for a free consultation to find out how we can help you.
Experience with Many Federal Crimes
At Pope Law, we have represented hundreds of clients throughout the federal system and up to trying cases before juries when necessary with great results. The following list is just a sample of the cases we've defended:
Your Best Defense Against Federal Charges
A common mistake individuals make when facing a federal crime is to underestimate the seriousness of the charges and the strength of the federal government and its resources and how much of an impact on your future a conviction can have. Pope Law attorneys understand the federal criminal justice system and have represented clients with cases like yours with successful results. Our approach involves carefully reviewing the charges and examining all the circumstances in order to accurately assess the strengths and weaknesses of your case and developing a strategy to present the best possible defense against the prosecution. A federal crime conviction can have devastating consequences on your personal and professional life, with the threat of prison, expensive fines, job loss and more. Don't face the specter of federal criminal charges alone or leave your future in the hands of an inexperienced lawyer. Contact Pope Law today. We've represented individuals and businesses in federal criminal investigations, grand jury subpoenas, and federal criminal trials across the country to get the best possible results.
Federal Crimes vs. State Crimes
If you've been charged, indicted, or accused of a federal or state crime, you may be unclear about what differentiates the two. Most crimes committed in New Jersey are tried at the state level; however, there are certain crimes that violate both state AND federal law can therefore be prosecuted at the federal level. Of course, there are multitude of federal crimes in which residents of the state can be charged with independently. Any crime that is investigated by federal authorities can be tried in federal court. These can include violent crimes like murder, homicide and kidnapping, illegal drug-related crimes, or white collar crimes like corruption, fraud and embezzlement. Title 18 of the federal crimnal code is comprised of thousands of federal statutes covering a multitude of criminal offenses that define the areas that federal law enforcement agencies like the FBI, DEA, and IRS operate within. The U.S. Attorney's office represents the federal government as prosecutors in federal criminal court. Federal laws and court procedures differ greatly from state courts and your best defense in a federal criminal case comes from experienced federal criminal defense attorneys that are familiar with these differences and have successfully represented clients at the federal level.
New Jersey State Criminal Defense Attorneys
The State of New Jersey takes all crime seriously, especially violent crimes like murder, rape, and domestic violence. Even certain motor vehicle offenses including DWIs and vehicular assault can carry severe penalties with possible jail time. If you are facing state level charges in New Jersey, your future and your freedom is at stake. The State Criminal Defense Attorneys at Pope Law are here to defend your rights and be a valuable courtroom advocate.
When your future is in the hands of the courts, it can be a very stressful and anxious time. Don't go it alone. Leave it to the experienced, battle-tested criminal defense attorneys of Pope Law to fight for your best interests and use their skills and expertise for a favorable resolution.
Defense Lawyers With Prosecutorial Experience
Our attorneys have served as previous prosecutors, handling all levels of charges in the state system prior to joining the defense bar. They understand the state legal system and are intimately familiar with what it takes to make or break a case. Using this inside knowledge, they have a distinct advantage over other defense attorneys in providing the best legal defense available to you. They now represent clients throughout New Jersey who have been charged with anything from disorderly persons offenses right up to murder allegations and everything in between.
Our attorneys defend clients in courtrooms for all felonies throughout the state of New Jersey.